Napoleon Hill, in his famous book, "Think and Grow Rich," talked about the importance of what he called "Sex Transmutation."
What does this mean?
All humans come hard wired with a never ending desire for sexual expression. Maslow, in his hierarchy of needs, put sexual expression on there as he realized it was essential for self actualization.
Hill also noted that inappropriate sexual expression, or what we might call "sexual addictions" are on his big list of things that can keep us from striking it rich.
Hill studied two groups of people. The rich and successful took their sex energy and "transmuted" it. The poor took their sex energy and wasted it. Beyond this, Hill didn't go into too much detail.
Unfortunately, sex isn't something we talk about, at least in terms of how to use this unlimited biological force other than for making babies.
Clearly, sex has always been a taboo subject, and in most societies, even primitive ones, sex is rarely spoken openly.
But most people only associate sex with sex. (duh). Few people know what sex transmutation is, let alone how to use sex transmutation to achieve goals.
So what exactly is Hill referring to, when he talks about "sex transmutation?"
Transmutation simply means to change. So sex transmutation is to change your sex energy, which is always in abundance, into something more useful than rubbing one out every night before bed. But how, exactly, can we do that?
How To Use Sex Transmutation To Achieve Goals
Think about it this way. You've got this deep, deep desire for sexual expression. No matter often you "satisfy" the urge, it's only a matter of time before it comes back.
What Hill was speaking about was taking that ever present urge, and focusing it on something else.
After all, unless you're a world famous porn star, there's not a lot of money in having sex as often as you can.
Luckily, in NLP there's this thing called "anchoring." Meaning you take any kind of external or internal stimulus, and you can pretty much choose whatever you want to result, given enough practice.
You can train yourself to feel confident whenever you touch your pinkies together, or you can train yourself to feel full whenever you pinch your lips together.
(I'm sure you can think of a few ways to use these.)
However, as anchoring is often taught in NLP seminars, it's not nearly powerful enough. In those seminars, it's taught as a "once and done" type of thing. Take the original feeling, and then connect it via the anchoring process, to the external trigger. Unfortunately, it takes while. The whole idea is borrowed from Pavlov, who in case you haven't heard, was able to get his dogs to salivate when he rang the bell instead of when he brought the food. But it took Pavlov several times to fully transfer the response from the smell of the food, to the sound of the bell.
So when setting anchors of any kind, the more you practice them, the stronger they'll be and the more useful they'll be.
How do you set a sex anchor? The process is simple. When most of us think about sex, we think about how Mother Nature wanted us to satisfy that desire. Through the anchoring process however, we can train ourselves to think of something other than porn or your partner when you think about sex. Instead, feel the raw sexual urge, but feel it separate from any specific imagery. Then connect that raw urge to whatever you want. Singing in front of a crowd, playing an instrument, etc.
At first, it may seem goofy. But if it worked for Pavlov's dogs, it will work for you. The idea is to AUTOMATICALLY connect the raw sex urge to something BESIDES sex. When this happens, your mind will start to creatively think of ways to make the new trigger (singing, writing, playing an instrument, learning calculus, etc.) become real.
Imagine if you were a writer or performer. And every time you had a sexual urge, you could channel that urge into creative expression, rather than sexual expression.
Or imagine any goal, for that matter. Just train your brain to think of achieving your goal whenever you feel that sexual urge.
This is just one way to take your natural triggers, which happen unconsciously and automatically, and consciously use them to achieve whatever you want.
There's plenty more.
NLP Swish Pattern
Another way to set the anchor to use the NLP Swish Pattern. This is when you take one feeling, and replace it by another.
You first associate a picture with one feeling, or emotion, and then find another picture you'd like to associate with another emotion, or resource state.
Using sex as an example, let's say you've got a goal to make some money. You've also got this never ending desire for sex.
First, come up with a picture that fires up your inner desire for sex. Choose whatever works.
Then, come up with another picture that represents the desire to make tons of money. Since the sex picture is already charged with emotion, take some time to charge the other picture with the emotion of money.
Take some time and make it really strong. So when you visualize that "money picture" you can really feel the money feelings.
Now the Swish Pattern.
Start off by visualizing the sex picture. Then replace it quickly with the money picture. Then clear your head, and do it again. If you do this enough times, you'll soon start to automatically think of making money soon after you start to think of sex.
This way, you can specifically conjure up your sex energy (instead of sitting around and waiting to get horny) and then purposely attach it to anything you like.
Unfortunately, the Swish Pattern is also taught in NLP seminars and books as a "once and done" kind of thing. But in reality, you'll need to build it in over time. Thing of it as practicing a martial arts move, specifically a block. It will take a while for the block to become an instinctive reaction. If you train in your sex response to the same level, your automatic response every time you get horny would be to start scheming of ways to make money (or write your next novel or whatever you've attached it to).
It won't take long before you're out and about, and then BAM! Some attractive person walks in your path. Now, having done this exercise, instead of just thinking about sex and maybe getting frustrated, you'll automatically switch from sex thoughts to money thoughts, which will motivate you to do something to make money, whatever that is for you.
To learn the process in much more detail, check out our newly released kindle book. (Released August of 2017) It's only $2.99 and goes into much more detail:
Sex Transmutation – Kindle Version – $2.99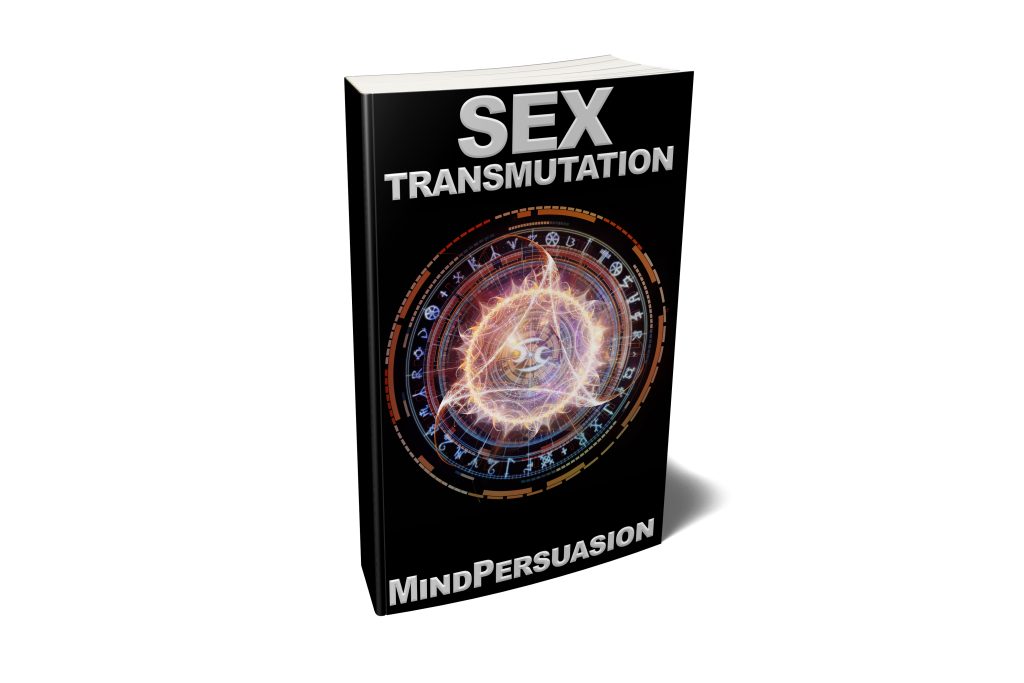 Sex Transmutation – Full Course – $39